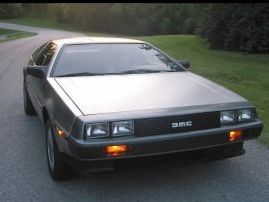 DeLorean
This year's guest marque is the DeLorean. These cars are also celebrating their silver anniversary.
First produced in 1981 in Dunmurry, Northern Ireland, they were revolutionary for their time. With design by Giorgetto Giugiaro of Ital Design studios in Turin, Italy and a chassis designed by Lotus they combined both looks and handling. Powered by a 130 horsepower 2.8 liter V6 fuel injected engine with an automatic or 5 speed transaxle they provide good performance and economy.
Only 8,583 DeLoreans were believed to have been manufactured in 1981, 1982, and 1983: 6,539, 1,126, and 918, respectively. Of those, about 6,000 are believed to be in circulation.
Their stainless steel body panels seem especially appropriate for their, as well as our, Silver Anniversary celebration.