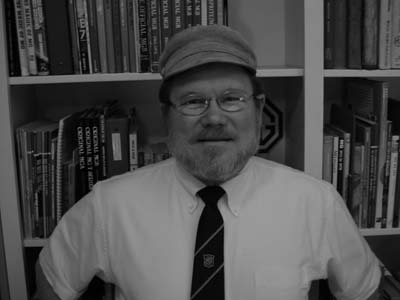 John Twist, the new MGB Technical Coordinator, has a lifelong dedication to the marque. He claims his first ride in an MG in 1965; purchased his first MG, a 1953 MG TD, in April, 1968; has been a customer of Moss Motors since 1969; entered the MG trade in Kalamazoo, Michigan, in 1971; received "the call" to enter the MG profession in November, 1971; worked at the original University Motors from 1972-1973; wrote his first MG article in 1972; first visited the factory in 1973; began trading as University Motors in August 1973; and opened his business, full time, in January, 1975. He claims 30 "wrenching years" providing service and technical support for MG owners.
John is a member of the MG Car Club (England), the MG Owners Club (England), the Octagon Car Club (England), the New England MG T Register (#1547), the North American MGA Register (#321), the American MGC Register (#52), the North American MGB Register (#0-101), the M.G. Drivers Club, as well as a member of the local West Michigan "Old Speckled Hen" MG Car Club and various other local clubs.
John has written hundreds of technical articles for many club and independent magazines including: "Safety Fast," "Enjoying MG," "MG Enthusiast," "MG World," "Abingdon Classics," "Sport and GT Market," "MG Magazine," "Classic MG Magazine," "The Sacred Octagon," "MGA!," "the AMGBA Octagon," "C Notes," "MGB Driver," the OSH "Octagram," and "Moss Motoring." He has contributed, with his wife, Caroline Robinson, to the Moss Motors MGB catalogue and to Anders Clausager's "Original MGB." He has a technical book for sale through his business.
His MG ownership has included: MG TD, MG TF, MGA 1500, MG YT, MG 1100, MG Midget, MGB, MGB/GT, and the MGC. He has owned his 1962 MGA 1600 Mark II Deluxe since 1976.
John was the founding chairman of the NAMGBR and chairman of the first all-club event, MG International - Indy 96. He and Caroline sponsor the University Motors Summer Parties which draw 500 MGs to the field.
Not only does John provide technical education through the University Motors Technical Seminars (he has just concluded the 2005 seminars, his 22nd year of tech sessions), but he is often found at major club events from Florida to Minnesota, from Pennsylvania to Texas, under a tent, repairing MGs.
John, 56, and Caroline have been married for 27 years and have two girls and two boys, ages 13-19. He has been active in Boy Scouts for 12 years, as a Cubmaster and later as a chairman of a Boy Scout Troop. In his spare time, he enjoys history, especially that of his home town of Marshall, Michigan, genealogy, and coin collecting.
John offers a technical help line through his business, from 1-2pm EST, Monday through Friday, at 616 682 0800. You may also contact him via email at JohnTwist@UniversityMotorsLtd.Com